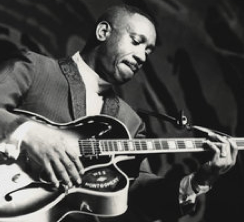 Though informed jazz musicians know that Wes Montgomery was one of the greatest guitarists, he was way more than a guitar player - he was one of the greatest jazz players who just happened to play guitar. Whatever Wes played had clarity, direction, patience, vulnerability and a beautiful sound. It is a shame that for many musicians the most important two facts about him are that he played with his thumb, not a pick, and that he played octaves. These trivial observations are tantamount to looking at Picasso's "The Old Guitarist" painting and only commenting on the frame.

I had the good fortune to see Wes several times, but the one that I will never forget was in 1967 at the Light House in Hermosa Beach California. For ten choruses on the tune "Sunny" each chorus he played was more intense than the previous one, climaxing in the last chorus with an outpouring of pure passion and soul. Everyone was stunned in awe looking like they were kids in nursery school who had just seen fire for the first time. His emotional honesty neutered any negativity in a 200-foot radius, elevating the audience to a place of religious exhilaration. The world was truly a wonderful place for those attending that set and I will never forget it or him.

Wes's playing was a tribute to the wide range of human emotions. He could make you cry with "For Heaven's Sake"; excite you to death with "Impressions"; groove you out with "Bumpin' on Sunset." In his music he showed us a world of deep feeling and imagination.

Although Wes made numerous recordings I highly recommend that everyone listen to Boss Guitar, The Incredible Jazz Guitar, Portrait of Wes and Live at The Half Note. These are some of the greatest recordings in any category and clearly distinguish Wes from all other jazz players, old and new.
Read More