Experience the Joy of Singing Jazz
Vocalists will train with Spider Saloff, create an audio demo at Chicago Recording Company, perform a recital at a major jazz club, and more.
If you love jazz and have always wanted to explore your jazz vocals,

this class will enhance your technique, expression and musical possibilities.
A 7-week term includes (1) two-hour group class each week. Classes are held on Saturday afternoons or Wednesday evenings.
Feel and Hear the Benefits:
- Record an audio demo at the world-renowned Chicago Recording Company. This world-class recording studio's clients includes Mavis Staples, international recording artists, and more.
- Sing with a professional rhythm section and p

erform a recital at Andy's Jazz Club. This is a priceless once-in-a-lifetime opportunity for many.
- Receive personalized instruction from legendary Jazz Vocalist Spider Saloff, winner of New York City's Bistro Award for Jazz Artistry.
"One of the finest jazz singers working in this or any other city," - The Chicago Tribune
"A wicked way with a lyric!" - The New York Times
- Learn not just which songs you love -- but which songs love you.
- Learn scatting and improvisation, as well as interpretation of songs to make them your own.
- Work within a supportive group of fellow singers.
Student Testimonials: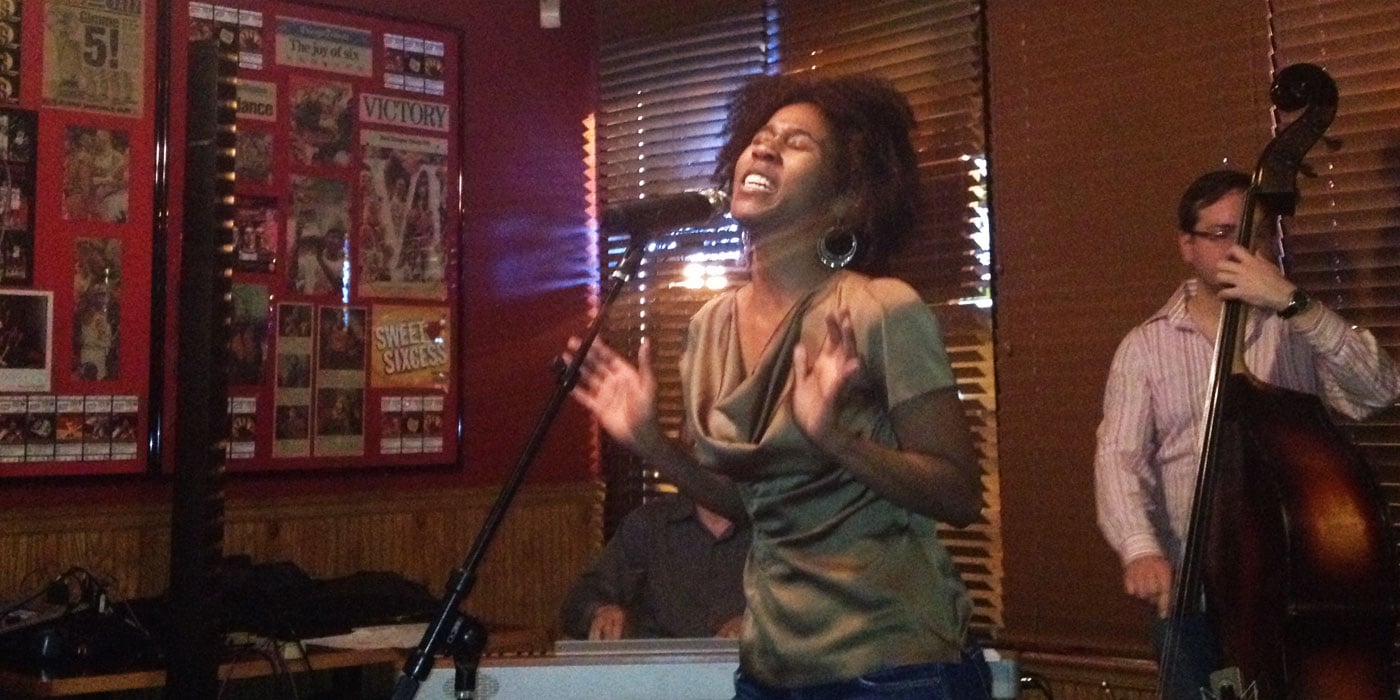 "David Bloom and Spider Saloff changed my outlook on music and on life. I'm already a semi-professional, but they give you straight and honest feedback. I wish I had taken his "Jazz Vocals" class 10 years ago!"
- M.W., Vocal Student
"Within a short period of time on this journey at the Bloom School, I have picked up skills and knowledge in the jazz language and have surprised myself. There is a genuine interest in the students growth... that's a rare gift in a teacher."
- Satya Gummuluri, Vocal Student
Ask us a Question:
Email hannah@bloomschoolofjazz.com or call (773) 860-8300.
Study with Spider Saloff
Learn from seasoned professional and award-winning vocalist Spider Saloff. She was recently awarded the 2017 Bistro Award for Ongoing Jazz Artistry at an award ceremony in New York City.
A New York cabaret artist who has made Chicago her home since 1994, Spider Saloff is recognized for her masterful musical technique and her ability to illuminate the meaning of every song. Spider works with you to develop your own personal style as well as on presentation, confidence, delivery and more.
"A thrilling singer! This is a voice you can dig, 'cause I dig it too." -Lionel Hampton
"Right-on intonation and a personal style which can sell a ballad or tantalize with half a chorus of scatting." -Dick Hyman
"Full of life and vitality." -Studs Terkel
"Ms. Saloff is a gifted and polished song stylist. A most enjoyable musical outing!" -Rex Reed
"Here is a list of qualities that every great singer must have. Great pitch, Time, Clarity, (Diction) and the greatest gift of all instant identifiability - you hear a few notes and immediately know who is singing. This is something that any singer would kill for. Spider Saloff needn't worry. She has all these qualities and then some! She's incredibly musical, a great performer, and marvelous songwriter. A perfect example of this is the title track from her latest CD "Like Glass" on Kopaesthetics. Just listen. You'll love it!" - Johnny Mandel
Click here to learn more about your instructor Spider Saloff.
Details
Call (773) 860-8300 for information.
Parking discounts at a local parking facility are available.
Locations:
Classes are held at Bloom School of Jazz, 226 S. Wabash, 7th Floor, Chicago, IL 60604
Recitals are often held at: Andy's Jazz Club, 11 E Hubbard St, Chicago, IL 60611
Recording sessions are often held at: Chicago Recording Company, 232 E Ohio St, Chicago, IL 60611
Cost of Course: $750.00
To receive information about upcoming classes, sign up on the mailing list.