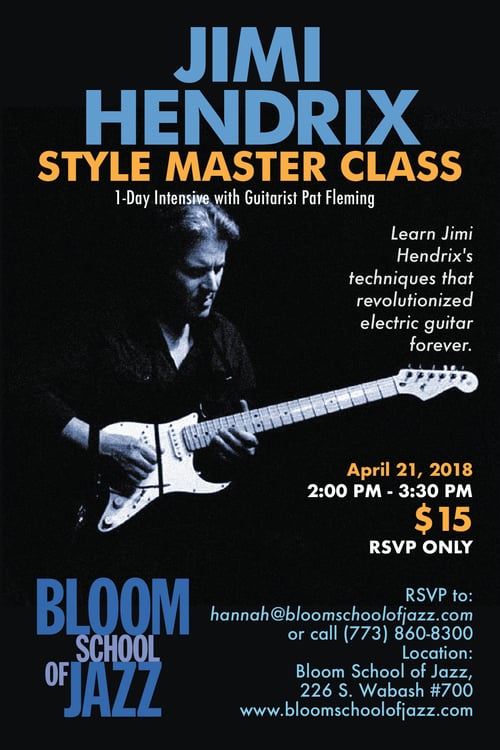 To RSVP, call (773) 860-8300 or email hannah@bloomschoolofjazz.com.
Bloom School of Jazz has hosted numerous workshops over the past 40 years, with musicians from guitarist Jon Scofield to tenor saxophonist Johnny Griffin. We are pleased to welcome guitarist Pat Fleming on Saturday April 21, 2018, for the Jimi Hendrix Master Class, 2:00 PM to 3:30 PM ($15/person). Space is limited.
About Pat Fleming:
Pat Fleming's skill and versatility have made for a career of notable for its diversity and breadth, from contributing to Chicago's most innovative and avant garde bands: D-Section and The Balkan Rhythm Band, to working alongside harmonica virtuoso and musical phenomenon Howard Levy (Kenny Loggins, The Flecktones, Paul Simon, Donald Fagen) with the Balkan Rhythm Band, touring North America. In collaborations with singer-songwriters, he has performed at Kerrville Festival, Mountain Stage, The Chicago Folk Festival and Fast Folk Festival in NYC. In working with such singer-songwriters, Pat has shared a stage with several other noted musicians: David Amram, Bob Gibson, Bonnie Koloc, Jim Post, Tom Paxton, Paquito de Rivera and Josh White Jr., to name only a few. He toured the nation with the Fareed Haque Quartet, an ensemble which opened for Sting at the Montreaux Jazz Festival. As a member of Chicago's high-profile Bradley Young Orchestra, he has appeared with such celebrities as Jim Belushi, the Coasters, Rosemary Clooney, Roberta Flack, Ben E. King, Melissa Manchester, Barry Manilow, Rita Moreno, and the Shirelles.
To RSVP: Email hannah@bloomschoolofjazz.com or call (773) 860-8300.
Read Fleming's article on Jimi Hendrix: Past, Present and Future here.