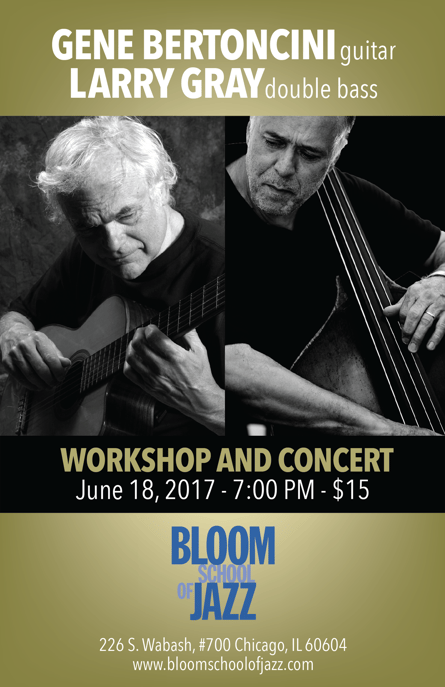 Students and musicians are invited to the Workshop and Concert featuring Gene Bertoncini and Larry Gray, held June 18, 2017 at 7:00pm at Bloom School of Jazz, 226 S. Wabash. Admission $15. RSVP by emailing dbloomjazz@gmail.com, or call 773-860-8300.
About Gene Bertoncini:
"It seems that only beautiful sounds emanate from Gene Bertoncini's guitar." -The New Yorker

"This is music to touch the heart and renew the spirit. Gene Bertoncini tells a story of rare beauty in every note." -George Fendel, Jazzscene
About Larry Gray:
A Chicago native renowned for his work on double bass and cello, Larry Gray has worked with Ramsey Lewis, George Coleman and Joe Pass, among many others.
For more information, and to RSVP
Call 773-860-8300 or email dbloomjazz@gmail.com