The legendary jazz guitarist Pat Martino invaded (and I do mean invaded) the Jazz Showcase for three days last weekend. Pat plays hard core jazz - there is no question that he means business. He has always been a messenger of swinging jazz, but unlike many other guitarists he doesn't use a lot of hammerons… he articulated all notes.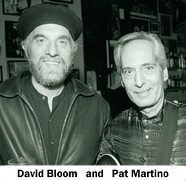 To me, he is the cleanest guitarist playing today. Although his playing may be a little predictable to those of us who have heard him before, his unrelenting attack and articulation, beautiful sound and fabulous time are exclusive to him.
This was an experience that confirms the power of jazz when it's played at the highest level. His music comes from a deep respect for the legacy and history of jazz, and like all the greatest players, he has developed his own instantly and delightfully recognizable voice.