Over the past few weeks we have put our heads down and charged ahead with creating a better online experience for those interested in the Bloom School. To mark this unveiling we have also added some new classes that may interest you.
Intro to Jazz NEW - This Bloom School class is a gentle introduction to jazz for all types of musicians. We understand that a lot of mistakes are always made when undertaking something new and we support those initial efforts with an overall ambiance of fun and acceptance. Very simple tunes are played in a small group. This is a great course to stick your proverbial big toe in the jazz pond to see how it feels to you. The class ends with the class playing a short afternoon concert.
Guitarobics NEW - The group aspect of this class creates both an esprit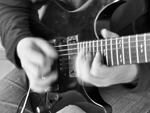 de corps and a friendly competition that propels students far beyond what they have accomplished alone or with individual lessons. This group boot camp for developing virtuoso guitar technique includes: time feeling and accuracy, speed, touch, dynamics and articulation. Each week the demand for speed and control incrementally increase. Students dramatically raise their standards of execution of technique, but more importantly, learn how to practice effectively for a lifetime of improvement. Most students are amazed at what they can accomplish in a short time.
More class updates and school information will be available soon. To get immediate information sign up for our mailing list on the right or go HERE to contact us!