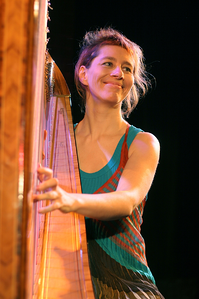 Isabelle has been a professional musician for more than 20 years, performing and recording with many great international musicians such as Peter Erskine, Norma Winstone, David Linx, Didier Lockwood, Louis Moutin, Eivind Opsvic in more than 20 countries.
She recorded 6 albums of her own compositions in France, in Germany and in the United States and a DVD. She composed music for theater, film scores, exhibitions, poetry, dance and puppet shows. She has been nominated for the French Victory of Jazz for "Year Revelation" and received an "Outstanding Musicianship"award from the Berklee School of Jazz in Boston.
She studied with Pierre Jamet - the great harp master who performed with Claude Debussy, Maurice Ravel, Igor Stravinsky and all the famous composer from the 20th century.
Teacher in Master Classes all over the world: France, Italy, Switzerland, Poland, Belgium, Germany, England, Canada, Bulgaria, Mauritania, Senegal, and Spain. Member of Paros Jazz Academy and Bloom School of Jazz.
" What sculpture is to a block of marble, education is to the soul ". Joseph Addison
"From beginners to advanced levels, I love teaching to share artistic experiences together around the magical harp. Technique is important, music is fundamental and soul is the most important. How to breath, to sing, to explore rhrythm, harmony, to develop your own personality is a part of our lesson."
"I love to combine interpretation and improvisation, oral tradition with classical techniques. I'm open to all styles from classical to world music from jazz standards to free jazz impro, pop and rock style. I teach composition, music theory and combos with other instruments and artists like dancers, painters, actors."
"I organize Harp Circles - gatherings of harp students and friends,
and we have 2 annual public Harp Class Concerts with others artists."
Isabelle Oliver