Jazz Artist Program at the Bloom School of Jazz
Beginning January 2018 we are offering an intensive one-year Jazz Artist Program designed to give each student: personalized private instruction; group combo playing; intensive monthly seminars; 6-8 tune recorded CD – what is necessary to succeed in making good jazz.
Private instruction is most effective for micro tuning techniques, ear training and monitoring and assessing progress.
The group combo classes are critically important for working on repertoire, time and phrasing, group listening and responding, arrangements and all concerns for making an effective dramatic group performance.
With this approach all personal performance and group interaction obstacles can be overcome. We are making this program available to the first 30 musicians who are accepted.
Jazz Artist Program Private Instruction Includes:
Master technique building - Scales, arpeggios, motifs, sequences and the best solos of master jazz players, executed with extreme dynamics and articulation.
Melodic Development - Married to a motif, add a note, melodic motif, rhythmic motif.
Transcriptual Ear-Training - Notating what you hear and playing what you hear. Transcribing the greatest solos from the greatest players.
Creative Ear-training- Applying Bloom's Ten Commandments of Jazz soloing.
Weekly Vocabulary Building - Learning new melodic and harmonic material each week to use on modal tunes, major and minor blues and standards. This material will be come from transcribing the masters as well specific composition exercises.
Jazz Artist Program Group Combo Classes Include: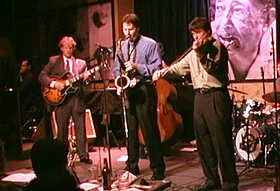 Repertoire - 5 new tunes each term will be learned to full competency.
Listening and Responding - Intensive group listening and responding. Learning to play with and against the other members of the band.
Composition and Arranging - Composing and arranging for the group.
Recording - Studio recording session and CD production.
Performance- Ten concerts (once a month)
Jazz Artist Program Monthly Seminars Include:
Arranging, Composition, Theory, and Master Musician Seminars
Jazz Artist Program
One private lesson per week (45 weeks)
One 6-7 person 2-hour combo per week (45 weeks)
One intensive 4-hour seminar per month including: theory, ear-training, composition and arranging and master musicians seminars.
Tuition $9000 (Pre-Enrollment full payment $8500) Pre-Enroll at the form on the right