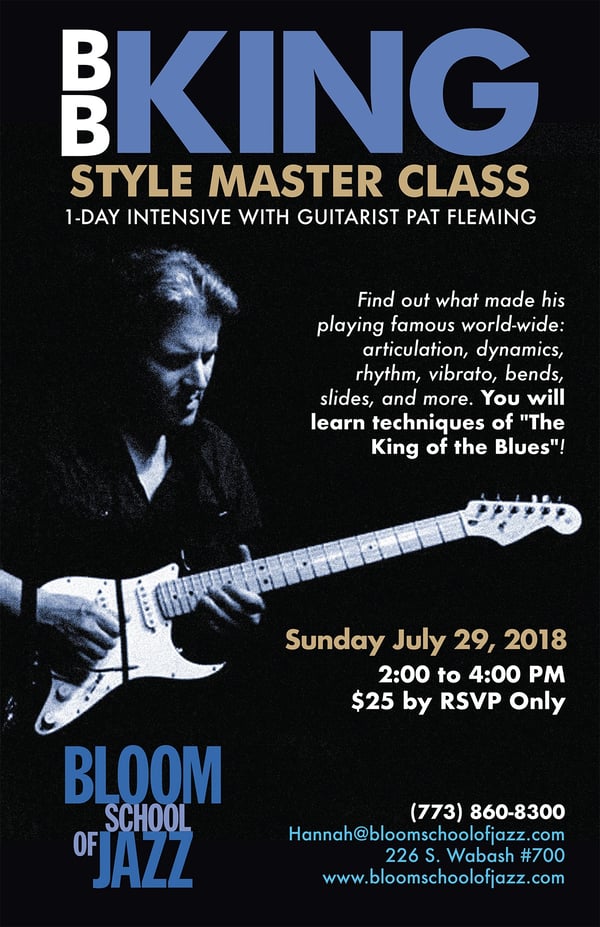 B.B. King Style Master Class
1-Day Intensive with Guitarist Pat Fleming
Date: July 29, 2018
Time: 2:00 PM to 4:00 PM
Doors 1:45 PM
Location: Bloom School of Jazz, 226 S. Wabash Ave. #700
Find out what made his playing famous world-wide:
a

rticulation, dynamics, rhythm, vibrato,

bends

, slides, and more.

Learn

techniques of

"The King of the Blues"!
Specifics:
Chords: 6th, 7th, 9th, 13th

Scales: Major Pentatonic and Blues

Arpeggios: Dominant 7: Three shapes I IV V
Expression:
Vibrato

Bends

Slides

Hammer on/Pull off

Articulation

Dynamics

Rhythm
Location:
About Bloom School Workshops
Bloom School of Jazz has hosted numerous workshops over the past 40 years, with musicians from guitarist Jon Scofield to tenor saxophonist Johnny Griffin.
We are pleased to welcome guitarist Pat Fleming on July 29, 2018, for the B.B. King Master Class, 2:00 PM to 4:00 PM ($25/person, cash day of). Space is limited.
About Pat Fleming:
Pat

Fleming

's skill and versatility have made for a career of notable for its diversity and breadth, from contributing to Chicago's most innovative and avant garde bands: D-Section and The Balkan Rhythm Band, to working alongside harmonica virtuoso and musical phenomenon Howard Levy (Kenny Loggins, The Flecktones, Paul Simon, Donald Fagen) with the Balkan Rhythm Band, touring North America. In collaborations with singer-songwriters, he has performed at Kerrville Festival, Mountain Stage, The Chicago Folk Festival and Fast Folk Festival in NYC. In working with such singer-songwriters,

Pat

has shared a stage with several other noted musicians: David Amram, Bob Gibson, Bonnie Koloc, Jim Post, Tom Paxton, Paquito de Rivera and Josh White Jr., to name only a few. He toured the nation with the Fareed Haque Quartet, an ensemble which opened for Sting at the Montreaux Jazz Festival. In late 2005 and again in 2007,

Pat

was asked to participate in the NYC workshops of a musical written by master of mystery Stephen King and rock icon John Mellencamp. He was one of four live musicians performing for the two workshops of "The Ghost Brothers of Darkland County", and can be heard on the CD release.
Currently,

Pat

is performing and recording with The Bad Sneakers Orchestra, an amazing Steely Dan tribute band; the New Standard jazz Quintet, an ensemble that features

Pat

's original compositions; Howard Levy's Acoustic Express Quartet, among many others. In 2005 & 2006, attendees of a prestigious harmonica seminar at NC's Outer Banks were treated to daily workshops and performances by

Pat

, Howard and members of Trio Globo, including Glen Velez.

Pat

is also music Director for Tracye Eileen's PTR Band, who have opened for The Stylistics, and appear regularly at Chicago's premiere blues venue, Buddy Guy's Legends. He also produced her latest CD, to be released in May 2018.
To RSVP, (773) 860-8300 or hannah@bloomschoolofjazz.com